soni lpg hose bs en 1762 type d (single braid)

Specification : exceeds bs en 1762, TYPE D
Construction : low permeation synthetic rubber tube resistant to n-pentnce, single wire braids reinforcement and perforated outer cover, resistant to abrasion an outer exposure with PIN pricked cover.
Application : designed for the transfer of LPG in liquid or gaseous phase and natual gas.
Temperature :-30℃ to +70℃ (-40℉ to +158℉)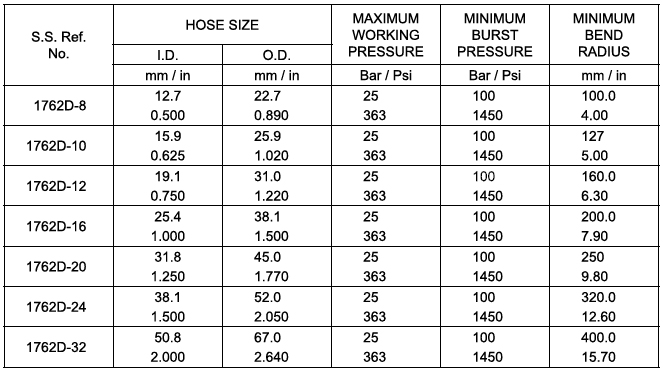 soni aircraft refuelling hose
(EN 1361:1997 IS 5797 : 1994 API BULLETIN 1529 : 1982)

Specification :

SONI EN 1361 : 1997
SONI IS 5797 : 1994
SONI API BULLETIN 1529 : 1982

Construction : for high pressure application in tractor trolly

lining: synthetic rubber resistant to petroleum fuel.
Reinforcement : a reinforcement of layers of woven, braids on spirally wound textile material with electrical continuity through braided copper wire.
Cover: anti static synthetic rubber resistant to abrasion, outdoor exposure and petroleum fuel.

Temperature : -30℃ to +65℃
Application :re-fuelling & fuelling of oils in aircafts.

soni petrol hose en 1360 - 3 / bs3395 - 3 hardwall

Specification : SONI EN 1360 : 2005 (TYPE-3)/BS33395-3-hardwall I wire braid
constuction : general purpose air & water application in construction , engineering, irrigation 7 Etc.

lining: smooth, fuel resistant lining o rubber.
Reinforcement : 1 high tenile steel wire.
Cover: weather an abrasion resistant synthetic rubber cover.

Temperature : service temperature range - 40℃ to +55℃
Application : used in dispensing puumps fo petrol and diesel fuels.
marking : soni IT 10 ATEX 46922 (maximum working pressure 16 bar)

soni liqui petroleum gas hoses (type - is 9573 bs 4089)

Specification : SONI LPG IS 9573/S-4089
constuction :

Inner tube : low diffusion rate seanless extrued synthetic rubber of uniform thickness
Reinforcement : one high resistance steel ire braiing.
Cover: black, synthetic rubber perforated to prevent the formation of blisters, resitant to abraion, oil, fuel an eathering ith PIN pricke cover.

Temperature : service temperature range - 40℃ to +60℃
Application : liqui ga applications (methane, propane, LPG), refilling and emptying of tankers